Polinovel
Regular price
£437.50
Sale price
£375.00
Unit price
per
Sale
Sold out
SKU:Blue12100
Out of stock
Share
View full details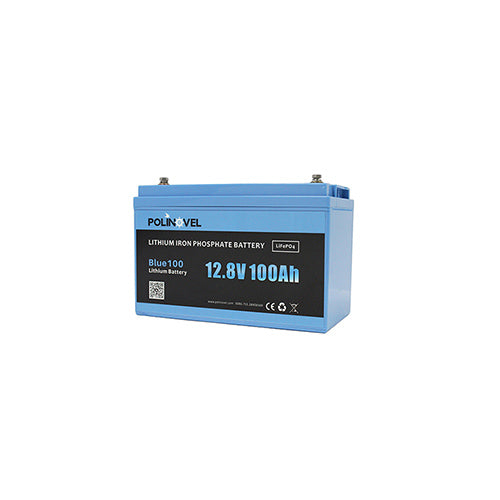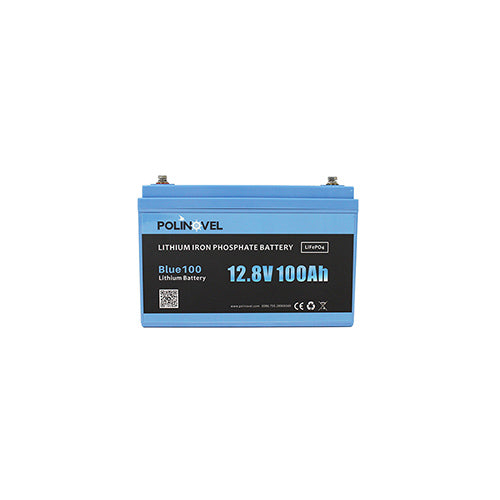 Blue100 12V 100Ah Lithium Battery
The 12V 100Ah HD BLUE battery is Polinovel's new lower priced 100Ah Lithium Iron Phosphate battery.   The HD Blue battery is a variation of the incredible HD 12V 100Ah battery.  Designed to offer a lower price than the std HD, yet still built to an extremely high standard.  For users who are looking for a good compromise between quality and budget, the HD Blue is built to outcompete with a high specification  other lower price lithium batteries.
Polinovel have  produced this most popular size battery that keeps the essential safety of the Heavy Duty HD Series  yet built to a lower price point.  For those working to a  budget who don't need the extremely over engineered HD series for their application, the Blue series offers an excellent quality battery at a more competitive price.  The same brand new cells are used with the same BMS maximum continuous current specification of 100Amps. (Peak of 200Amps <5Seconds) The Blue series is designed for use in less demanding applications, recommended to have a  std charge current of 20 -50Amps and a discharge current recommended to be  upto 100Amp continuous. 
High cost-effective lithium battery with 2 years warranty
Fast delivery. In stock for next day shipping.
100% brand new lithium iron phosphate battery cells
High standards production from the inside out to ensure reliable power
Support maximum 4pcs connection in series or parallel to expend energy
Offering 2 years warranty and permanent after-sale service
   The Blue100 leisure 12v 100ah lithium battery is an affordable, effective option for those devices that you  want to power. It measures 329 mm*172 mm*214mm, weighs 13.5 kg and is protected by a reinforced plastic housing and a 2 year warranty. It is rather well-designed and is built to take a beating from bumps or vibrations. Plus, it can also be used in the fishing boat, trolling motor, kayak and marine yacht. Its advantage against the competition is its ability to take more recharges, is more durable and a higher safety standard than most other batteries, Especially at this price point.
| | |
| --- | --- |
| ELECTRICAL SPECIFICATIONS | |
| Model | Blue100 |
| Nominal Voltage | 12.8V |
| Nominal Capacity | 100Ah |
| Energy | 1280Wh |
| Self Discharge | <3%/month |
| Maximum Modules in Series or Parallel | 4 |
| MECHANICAL SPECIFICATIONS | |
| Dimensions (L x W x H) | 329 x 172 x 214 mm (13 x 6.8 x 8.4") |
| Weight | 14kg (30.9 lbs) |
| Terminal Type | M8 |
| Case Material | ABS |
| Enclosure Protection | IP56 |
| Cell Type | Cylindrical |
| Chemistry | LiFePO4 |
| CHARGE SPECIFICATIONS | |
| Recommended Charge Current | 20A-50A |
| Maximum Charge Current | 100A |
| Charge Current (0 to -10 ºC) | ≤0.1C |
| Charge Current (-20 to -10 ºC) | ≤0.05C |
| Recommended Charge Voltage | 14.2V – 14.6V |
| BMS Charge Voltage Cut-Off | 15.4V (3.85 ±0.025 vpc, 1~1.5s) |
| Reconnect Voltage | 15.2V (3.8 ±0.05vpc) |
| DISCHARGE SPECIFICATIONS | |
| Maximum Continuous Discharge Current | 100A |
| Peak Discharge Current | 200A (<5s) |
| BMS Discharge Current Cut-Off | 300A (±20A, 9±2ms) |
| Recommended Low Voltage Disconnect | 10V |
| BMS Discharge Voltage Cut-Off | 8V (2.0±0.05vpc, 120~180ms) |
| Reconnect Voltage | 9.2V (2.3±0.1vpc) |
| TEMPERATURE SPECIFICATIONS | |
| Discharge Temperature | -20 to 60 ºC (-4 to 140 ºF) |
| Charge Temperature | 0 to 45 ºC (32 to 113 ºF) |
| Storage Temperature (1 month) | -20 to 60 ºC (-4 to 140 ºF) |
| Storage Temperature (3 months) | -20 to 45 ºC (-4 to 113 ºF) |
| Storage Temperature (6 months) | -20 to 25 ºC (-4 to 77 ºF) |
| COMPLIANCE SPECIFICATIONS | |
| Certifications | CE, UN38.3, MSDS |
| Shipping Classification | UN 3480, CLASS 9 |
Bluetooth Smart Batteries