Polinovel
Regular price
Sale price
£2,083.33
Unit price
per
Sale
Sold out
SKU:LCR48100
Share
View full details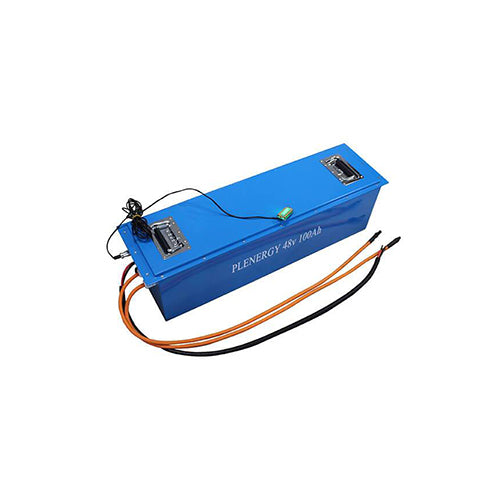 100Ah LiFePo4 Battery for 48v Golf Cart
Model: LCR48100
48V 100Ah LiFePo4 Battery Pack
Special order item. Delivery time is 4-6 weeks after confirmed order
Tailored metal case to drop-in space
LCD screen to check SOC
Considerate handle for moving
Anderson connector for easy connection
Strong structure better guarantee the safety and performance
48V 100Ah LiFePo4 Battery for Golf Carts
Are you looking for an alternative to large and unsightly batteries that take up space and weigh down your golf cart? Quality source has a range of compact, efficient and long-lasting lithium iron phosphate (LiFePO4) battery packs for your golfing vehicles. They are even made to measure, ensuring that they fit into your cart's specifications.
You won't need to have this constantly plugged into a battery charger, either, as the energy storage system is designed to be efficient - ensuring you get the most out of your cart for longer.
Increasingly, more and more batteries are moving away from traditional lead acid varieties - with a whole host of advantages, including being better for the environment, and weighing considerably less than conventional battery systems (our lithium battery pack for golf carts weighs just 50kg - half the size of lead battery systems).
Overview
This 48V 100Ah golf cart lithium battery pack is designed to be drop in replacement for conventional lead acid battery, and it is extremely easy to install with all accessories available. The benefit of lithium battery include much shorter charging time and significant saving in electricity bill, no maintenance, longer lifetime and lighter in weight etc.
FEATURES
Every details of this lithium battery pack is designed to help you get better use of your golf cart.
High Quality Customized Metal Case LCD Display to Monitor Battery SOC
Considerable Handle Added for Easy Carry Qualified Terminal and Cables
SPECIFICATIONS
Items

Parameter

Battery Type

MnNiCo ternary / Lifepo4

Nominal Voltage

51.8V

Nominal Capacity

100Ah

Energy

5.18KWh

Internal Resistance

≤20mΩ

Communication

RS485 RS232

Charge Method

CC/CV

Limited Charge Voltage

58.8±0.2V

Floating Charge Voltage

54.6±0.2V

Discharge Cut-off Voltage

42.0V

Standard Charge Current

20A (OEM)

Max. Continuous Discharge Current

100A (OEM)

Pulse Discharge Current (<5s)

200A (OEM)

Cycle Life

> 1500 cycles

Dimension

Length: 850±2mm

Width: 225±2mm

Height: 220±2mm

Weight

50±0.2Kg

Operation Temperature Range

Charge: 0~45℃;

Discharge: -20~60℃

Recommended operating temperature: 15℃~35℃

Self-Discharge Rate

Residual capacity: ≤3%/month; ≤15%/years

Reversible capacity: ≤1.5%/month; ≤8%/years

Storage Temperature & Humidity Range

Less than 1 month: -20℃~35℃, 45%RH~75%RH

Less than 3 months: -10℃~35℃, 45%RH~75%RH

Recommended storage environment: 15℃~35℃,45%RH~75%RH
Customise Your Battery
If you are going to replace the conventional lead acid battery or create a new battery for your golf cart, tell us your detailed requirements, we offer a FREE design for your lithium battery pack solution in Specification including:
-Battery capacity
-Charge current
-Discharge current
-Dimension in LxWxH
-LCD display
-Handle position
-Terminals & Connectors
Specialist Suppliers to Golf Clubs
If your golf club is looking for reliable and efficient batteries that won't need to be constantly plugged into a charger and will give you incredible performance, then our battery 48v lithium iron phosphate battery is ideal.

Perfect for a range of electric vehicles, such as golf trolleys, electric golf carts, and other lighter motor vehicle applications, the LiFePO4 lithium battery uses cutting edge low carbon battery technology, making our lithium golf cart batteries a power supply that you can rely on.
Why Choose Us For Your Next Lithium Battery Pack?
Quality Batteries and Appliances - We don't do 'cheap' products - what we do offer is premium lithium golf cart batteries that will see you through to many holes and courses.
Cutting Edge - Many of our batteries come with a battery management system (BMS) to protect your appliance from the elements.
Bespoke - our battery packs can be made to your specific measurement requirements - we work around your needs.
We cover golf car batteries for popular makes such as E-Z-Go, Yamaha, Club Car etc - get in touch to find out if our batteries are perfect match for your golf cart!
Bluetooth Smart Batteries